Character stats, gear, levels and learned skills are not changing.
Moderator Edit:
Name Mr. Twelve
SL Login Name: doctrorainbowdash
Age: 237
Languages Spoken: Common-(100%) High Northern-(100%)
Gender: N/A
Species: Robot
Cutie Mark N/A
Allegiance/Faction: N/A
Appearance: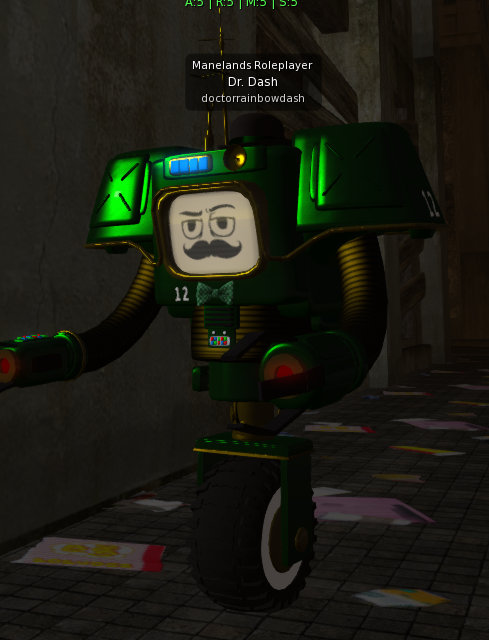 Character Tagged Skills: Big Guns, Melee, Science
Character Perks - General
Tribal Warrior-- Jury Rigging-- Piercing Hoof / Piercing Strike
Character Perks - Racial
Automated Repair Systems-- Administrator Access-- Protocol, Shmotocol
Starting Gear (Maximum of 5 points worth.)
T5 Armor
Updated Biography: Leaving behind the Capital city was not an easy decision for the...well what exactly could you refer to Mr. Twelve as these days? He was more than a protectron, more than a securitron too. The...AI decided it was best to follow the tide of change, and set off across the desert towards new hopes and dreams, with Finley in tow.
Moderator Edit:
Mr. Twelve is an advanced AI that once served Bunker 15. He was liberated from his civic duties after being bludgeoned on the head, repaired, then placed inside a Securitron. MR. Twelve then left Bunker 15 to engage terrorists in glorious combat, and from there joined the OSB. The now Defunct OSB scattered after the fall of Morninglight.