Name: Rezz Dud
SL Login Name: AerialLibra
Age: 25
Languages Spoken: Common and Zebrican
Gender: Male
Species/Race: Pony Unicorn
Cutie Mark:
Allegiance/Faction: None.
Appearance: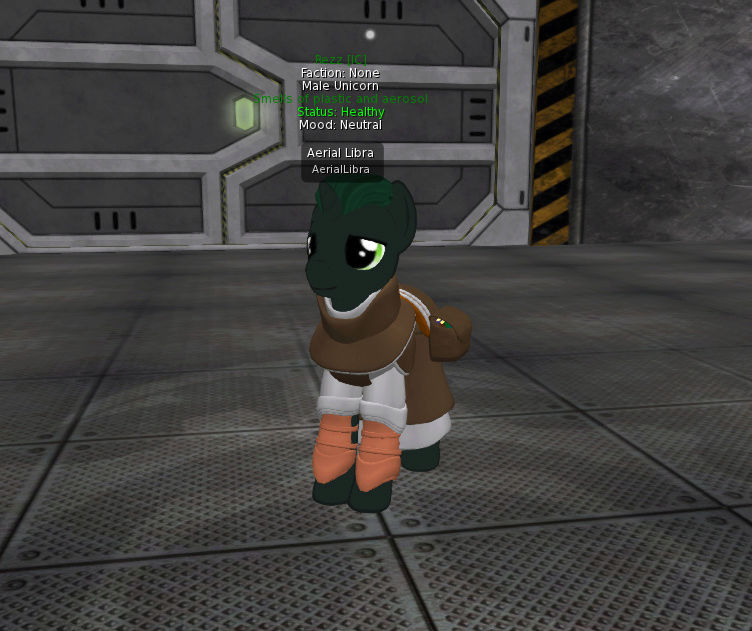 Rezz is unicorn with a dark jungle green coat and phthalo green hair. He has decently clean hair and no visible scars. He smells of plastic and aerosol, as if he was constantly cleaning computers... He is a semi-compassionate pony, and smiles most of the time.
Character Tagged Skills: Science, Sneak, and Speech
Character Perks – General: Computer Whiz, Infiltrator, Robotics Expert
Character Perks – Racial: Conservation of Mana, Zen Casting, Advanced Spells
Starting Gear: Tier 5 Armor
Biography/Brief History: Rezz is not the usual wastelander that takes on raiders, instead, he uses stealth to his advantage. Rezz was born in the wasteland, but made an effort to learn how to hack into terminals. As a teen, he managed to get his hooves on terminal manuals and a holotape having to do with hacking. His first real weapon was a 10mm pistol he found in a super-mart on the ground next to a decomposed corpse of a pony. While the body was wretched to him, the gun however was a new companion. Not much has changed since then, a couple of run ins with raiders that he has either ran from or tried to take out. In the recent past one of his run ins costed him his 10mm and he was left without a weapon. Now he currently wanders the wastes, seeking a civilization that hasn't become as grotesque as the world around them.