Name (Character): Wysteria
SL Login Name: Gwendolyn Gracemount
Age: 18 years
Languages Spoken: Common, Changeling.
Gender: Female
Species/Race: Changeling
Allegiance/Faction: Her Big Brother <3
Appearance (Image or short description.)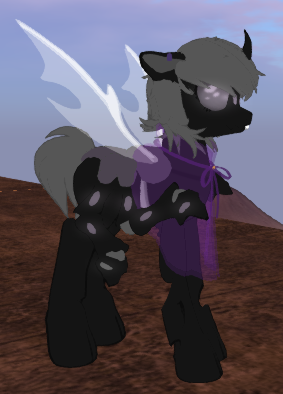 Character Tagged Skills: Sneak, Medicine, Speech.
Character Perks - General: A little dash, Brown Muzzle Celestial Aid
Character Perks - Racial: Captain of the Guard, Hypnotize, Champion of the Hive
Starting Gear: T5 Special.
Biography/Brief History:
When the Discordium hive was purged and burned, Wysteria tried to flee with Arachnis, like the other youngsters and elders trying to escape, only to be separated in the chaos and left behind. She hid until it was all over and then left the scorched remains of her home and family. She believed them all to be dead, all except her elder brother, she saw him get out, or at least she wanted to believe it, and set out to look for him, searching high and low, doing her best to hide and avoid ponies, especially ones like the ones who destroyed everything she knew.